PGK Accessory Kit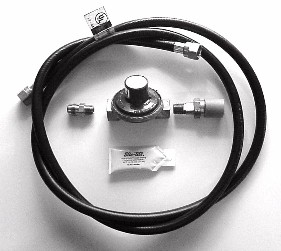 Propane cylinders can be used to operate a propane generator portably. This will allow a generator to be disconnected from the high pressure side of the home system and hooked up to a cylinder. Two kits are available. They are both the same except for the length of the rubber hose. Choose from a six foot or twelve foot hose kit.
Both of the PGK Accessory Kits include:
| | |
| --- | --- |
| | High Pressure Safety Regulator |
| | Left Handed Cylinder Fitting-Works with ALL Cylinders, New or Old Style |
| | Pre-assembled Rubber Hose with Swivel Ends |
| | High pressure Regulator Outlet Fitting. |
The PGK can be used along with a quick disconnect coupler.
The PGK hose can be used to make the final connection on a stationary system.
PGK-6 (kit with 6' hose) $29
PGK-12 (kit with 12' hose) $35
These accessory kits can be ordered from the accessories page.